A few weekends ago, my sisters threw me a baby shower. (For those of you who don't know, I'm expecting my first child in a couple of weeks!) They had a delicious spread of food, provided fun games and set up my sister's house to welcome my friends and family. To say I was touched and feel lucky is an understatement.
When it was time to open all the gifts for my future son and I, I thanked them for everything they've done for me that day. I also wanted to tell them how thankful I was that they were actually there for me through this exciting but also anxious time. I held my tongue that day but did let them know soon after.
This is growth. You see, in the past, I had a hard time letting people in. I mean, really letting people in. I felt like I always had to keep everything together and that if I made it appear as if I was going through some kind of trouble and needing them, I  would seem weak, or become a burden to them.
Since then, many years later, I've let myself get increasingly vulnerable. On this blog, with my clients, with my family, with my friends. I've told people about not only my not so happy days, but my darkest days when I've felt totally lost and confused. I've asked for favors, support and prayers. I've told people I needed them to listen as I spoke, I asked them for recommendations and listened to their advice.
At first, I remember it feeling very scary…What would they think of me? Would they get annoyed with me?
Would they get it? Would they understand me?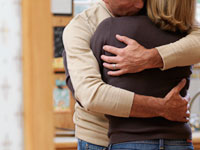 And as I looked around at my baby shower, I realized that everything was okay. They were all there and had seen my full spectrum of emotions and who I was, and they were all there by my side.
Getting Vulnerable is Scary!! Opening up and letting others see your good, the not so good and the darkest of days, is easier said than done. Talking about our feelings and thoughts to others leaves us feeling exposed. It opens us up for rejection from others, them thinking we are weak or not accept us for who we are. But it also opens us up to living an authentic life of integrity, getting real support and feeling connected to others when we feel alone.
When people come to me with issues of anxiety, depression, eating disorders, etc., they discover that they turn to Eating disorder behaviors to escape some of the uncomfortable feelings they have.
They may be feeling alone and confused. Rather than talking to someone about they rely distracting themselves with obsessive thoughts on food and exercise and altering the way they look…hoping to avoid the reality of the unpleasant feelings inside.
These are just a couple of examples and I think some of you may be able to relate to them.
My challenge for YOU…
I encourage you to try peeling back the layers a little bit and get real with a person of your choosing. Ask them for support. Tell them how you really feel. If you're lonely, reach out to them.
Your feelings are valid and deserve to be expressed.
Tell me… is it hard for you to open up and admit when you're struggling? Is there one way you can open yourself up a little bit more to someone today?
I'd love to hear your comments on this blog!
Always Be YOU,
Jenn B.